Einstein Effect Reveals Icy Exoplanet

Source: Scientific American, Retrieved on 03/14/06, Internet Source
An international team of scientists has discovered a massive new planet thanks to an effect described by Einstein 70 years ago. Microlensing--which occurs when a star crosses in front of another star and bends the light from the more distant star, magnifying it like a lens--predicted extra brightness for a red dwarf star roughly 9,000 light years from Earth. But it appeared even brighter than expected in observations and only a planet could have produced this effect, according to a paper published online by Astrophysical Journal Letters.
[More]
Oil hits record $74 on Iran, US gasoline stocks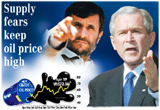 Source: Reuters, By By Simon Webb, Retrieved on 04/19/06, Internet Source
LONDON (Reuters) - Oil hit a record $74 a barrel Wednesday on fears Iran's intensifying dispute with the West may hit oil supplies and after U.S. gasoline stocks dropped.
[More]
Network to Support African Biotech Research, Policy

Source: SciDev.Net, By Wagdy Sawahel, 03/08/06, Internet Source
The UN Food and Agriculture Organization will launch an online network this month to boost biotechnology research and policy development in Africa.
The Agricultural Biotechnology Network for Africa (ABNET) will encourage researchers, policymakers, farmers and the media to share information and discuss how biotechnology can improve agriculture.
[More]
Cosmic Triumph: Satellite Confirms Birth Theory of Universe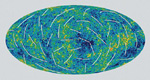 Source: Science News, Retrieved on 03/19/06, Internet
Source
The most detailed portrait ever taken of the radiation left over from the Big Bang provides fresh evidence that the universe began with a tremendous growth spurt, expanding from subatomic scales to the size of a grapefruit in less than a trillionth of a second.
[More]