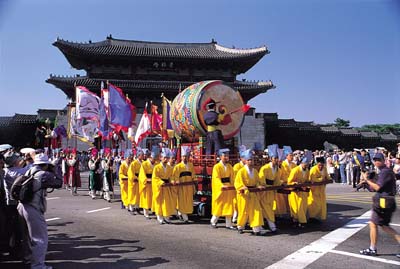 Built on an extensive reclaimed tidal land between two islands, Incheon International Airport is 52 km west of downtown Seoul and 15 km off the coast of the port city of Incheon. It operates 24 hours.
LIMOUSINE BUSES
Limousine buses are the best way to travel easily, at minimal expense, to and from various places around Korea, including the Ritz-Carlton and other major hotels. Information and tickets are available at the Transportation Information Counters near exits No. 2, 4, 9, and 13 on the arrival floor of the passenger terminal.
TAXIS
Taxis are plentiful, inexpensive, clean and safe. There are taxi stands in most busy city areas, and taxis can also be hailed on the street. Certain taxis can also be requested by phone, although the fare for these special call taxis is somewhat higher than regular taxis. An increasing number of taxi drivers speak some English.
Regular Taxis
The fare system is based on both distance and time. Fares are 1,600 won for the first 2 kilometers and 100 won for each additional 168 meters. If the taxi is going less than 15 kilometers per hour, an additional charge of 100 won per 41 seconds is added to the fare. The fare between Incheon International Airport and downtown Seoul is usually about 42,000 won (including toll), although it can be higher if traffic is congested. Fares increase 20 percent between midnight and 04:00.
Brand Taxis
The Brand taxis "Kind Call Taxi" and "KT Powertel" are equipped with a simultaneous interpretation machine, a receipt issuance machine and wireless data terminal with automatic vehicle location system. The fare is the same as that of regular taxis and 1,000 won is surcharged for call usage.
Kind Call Taxi Phone: 1588-0082
KT Powertel Phone: 1588-3382
Deluxe Taxis
Deluxe taxis, call mobeom taxi in Korean, are black with a yellow sign on the top and the words "Deluxe Taxi" written on the sides. They offer more passenger space and a high standard of service. Fares are 4,000 won for the fist 3 kilometers and 200 won for each additional 20 meters or each 50 seconds if the speed drops below 15 kilometers per hours. The usual fare between Incheon International Airport and downtown is about 69,000 won (including toll). Receipts are given. There is no late-night surcharge. Deluxe taxis can be taken at stands located at hotels, stations, bus terminals, and on major city streets. They can also be called at 02-558-8000.